Frequently Asked Questions
Why CHEF360 Catering?
One word? Food.  When you select CHEF360 Catering, everything about your event will be about you and your wants, expectations, and ideas.  Our quality is exceptional, our staff is professional, and our quality standards are impeccable. While we do have "all-in-one" menus you can select from, anything is customizable.  When it comes to your menu and your vision, our only rule is there are no rules.
What services does CHEF360 Catering provide?
CHEF360 Catering is a full-service catering company.  In addition to planning your menu with you, we can facilitate rental items, assist with setup/breakdown, staff your event, and suggest and provide décor items.  We cover all of the bases, from food drop-offs to full event execution and stylizing.
Do you offer day-of coordination?
Yes. For a fee of $900.00, we have an in-house day-of coordinator.
What is KS360?
KS360 is our in-house kitchen studio.  We also have a Media Room where we can host birthday parties, holiday events, seminars, and meetings.  Chef Peter Collins hosts cooking classes, In-Flight dinners, Team Builders, Culinary Events, and more!
Can CHEF360 Catering cater at any location?
Yes.  There may be additional delivery/mileage charges for certain destinations, but CHEF360 Catering has the ability to cater at many different venues.
Can I have a wedding reception for 150 guests catered by CHEF360 if my food budget is $3000?
Probably not. CHEF360 Catering sets very high standards for food quality, service, and style.  It is very important to us that you and your guests are able to experience our highest level of culinary performance.
Do I get a tasting?
After you have signed a contract and paid your deposit with CHEF360 Catering, we will have a tasting of your menu selection.  This will be done about two months before your event. Only one complimentary menu tasting for up to 4 guests is included.
I have some favorite family recipes I want to incorporate into my event. Can you do that?
Yes! CHEF360 Catering can customize any menu for you, including creating special dishes you would like to incorporate.
How do I confirm my date?
A nonrefundable deposit of 50% of the estimated event total along with a signed contract is due to confirm a date.  This amount will be based on the proposal created for you by the CHEF360 Sales Manager. Even when paying by cash or check, CHEF360 Catering must have a credit card/debit card on file.
When is the balance payment due?
90 days before the event date, half of the remaining balance is due.  This amount is also nonrefundable. For social events, ten (10) days before the event date, the final balance is due. For corporate events, five (5) days before the event date, the final payment is due.  There will be NO REFUNDS for drops in guest counts post-deadline. Even when paying by cash or check, CHEF360 Catering must have a credit card/debit card on file.
What does "based on consumption" mean?
For events in which beverages are provided by CHEF360 Catering, the amount listed on the contract is strictly an estimate.  At the end of the event, a final tally of beverages actually consumed will be computed. If this amount is over the estimated amount, a final invoice will be generated and sent to the client.  The balance will be
charged to the credit card on file unless the client instructs otherwise. Payment of this invoice is due within three (3) business days after the event date.
What happens if my event runs past the scheduled end time?
An hourly rate of $200 per hour will be assessed for each hour past the scheduled end time.  This fee is hourly based, and will not be reduced for portions of the hour. This charge will be assessed to the credit card on file, and the client or client's representative will be notified at the event.
When do you need a final count and payment?
For social events, we require a guaranteed number ten (10) business days in advance of the event date. For corporate events, we require a guaranteed number five (5)) business days in advance. This is the MINIMUM number of guests for which you will be charged. These dates are also when the final balance payment is due.
What forms of payment do you accept?
We accept all major credit cards, checks, and cash.  Please note that a 3.8% processing fee will be added to all credit card transactions. It is required that we have a credit card number on file for any overages beyond the estimated amount.  This card will NOT be charged without CHEF360 Catering contacting you.
What happens if I cancel my event?
If a client cancels an event, they forfeit the deposit amount. If the event is cancelled less than ninety (90) days from the event date, the client forfeits both the deposit and the 50% balance payment.  If the client cancels after the final payment and guest count have been submitted, client forfeits all monies paid to CHEF360 Catering.
What is force majeure?
It is agreed that CHEF360 Catering will not be held responsible for any Acts of Mother Nature, including, but not limited to, hurricanes, floods, or storms of any kind, nor any political acts, including but not limited to war, acts of terrorism, or civil disturbances.  Further, CHEF360 Catering will not be held responsible for any changes to the catering site or venue, including but not limited to sale of venue or site, power outages, damage to venue, which make catering at the venue or site unsafe or in violation of state and local laws and/or DHEC requirements. It is suggested that the client purchase wedding insurance. You can visit sites such as www.wedsafe.com for more information.
Is there a cake-cutting fee?
For most wedding cakes, the cake cutting is complimentary. For intricate, unusual cakes, there will be a fee of $1.25 per person.  CHEF360 Catering does not accept delivery of cakes, will not move cakes, parts/pieces of cake construction that are due back to the owner of such, and does not provide to-go items for cakes.
What is the attendant fee?
This fee is charged for any "action" stations in your menu.
What is the service charge?
This fee is for service on food and beverage.  It is not assessed against anything other than food and beverage.
What is the setup/break down charge?
This fee is for the staff required to prepare, setup, and break down of your event within the contracted venue's guidelines.
What does the equipment rental charge include?
This fee includes food tables, standard black linens for food tables, all service utensils, food service dishes (i.e. chafing dishes) and china or disposables, flatware, stemware or high-quality disposables.
Do you provide bar service?
We provide bar service for our in-house KS360 events, but for off-site catering, we do not provide alcohol. We can provide bartenders to work your bar, and we can also recommend a mobile bartending company for you. You can also visit our Vendor page and view a list of all of our recommended vendors.
Will Chef Peter be at my event?
While Chef tries to be at every event, sometimes it is not possible.  However, in most cases you will meet Chef at your tasting and be able to go over your menu with him then.  At your event, there will be culinary staff and a banquet captain who will serve as the point person for your event.  He or she will make sure to introduce himself/herself to you at the beginning of your event and will follow-up with you at the end of your event.
What can I expect to spend on catering from CHEF360 Catering for an event with 150 guests?
While it is hard to answer this question due to variable such as menu selection, linens, rentals, etc., you can estimate between $4,000.00 and $8,000.00 for this type of event. Again, this is only an estimate.
How long will food be served?
The standard time for food service is 2 hours. CHEF360 Catering staff will be at your event from start to finish, and once food consumption has slowed, we will not replenish food items. We will remove empty chafers/platters and make sure your food tables are neat. We will NEVER break down tables during your event.
Can we pack up leftover food?
At the beginning of a wedding reception, we will box up food for the bride and groom and safely store the food until the bride's and groom's exit. Due to DHEC regulations and liability pertaining to food temperatures and food handling beyond our control, we cannot pack up leftover food at the end of an event. After many years in the industry, we are very experienced and work very hard to prevent food waste and potential food hazards.
Why do you recommend not doing a per piece menu for my reception?
You run a very big risk of running out of food if you opt to do a per piece menu or actually paying for more food than you need. With a per piece menu, once the food is gone, there is no way to replenish it. Many times, this type of menu for a reception or large event can cost you more in the long run.
How long is a typical event?
4 hours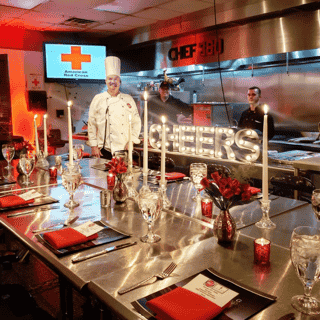 CHEF360 CATERING GIVES BACK
Our Way of Saying "Thanks"

Over the years, Chef Peter has made many friends that have helped him prosper in the hospitality industry and in our local community. To show his appreciation and to help our community prosper too, "CHEF360 Gives Back" is a proud sponsor of the following local non-profit organizations and events:

• American Red Cross
• Meyer Center
• Ronald McDonald House of the Carolinas
• Roper Mountain Science Center
• Special Olympics